As we explained last week, experiential marketing is an extremely powerful and effective marketing technique. What sets experiential apart from other approaches to marketing? Why should your company invest in events and experiential campaigns? Here are a few more reasons why experiential marketing works: 
Experiential marketing is

customer-centric
What does it mean to be customer-centric? According to businessdictionary.com, to be customer-centric is defined as "Creating a positive consumer experience at the point of sale and post-sale. A customer-centric approach can add value to a company by enabling it to differentiate itself from competitors who do not offer the same experience." Dr. Peter Fader, co-director of the Wharton Customer Analytics Initiative, states that the optimal customer-centric approach is to identify the most valuable customers. Finally, Sue Duris, director of marketing and customer experience at M4 Communications, described being customer-centric as: "Customers are in charge of a brand. They expect brands to know them and provide them with the experiences they want. So brands must place the customer at the center of their businesses to be able to grow."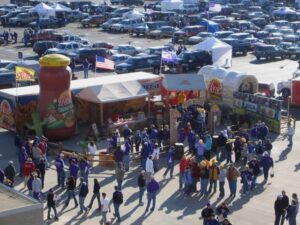 Experiential marketing is the perfect partner for a customer-centric business approach. Experiential meets customers on their own turf. When customers attend events, they are in control! Each potential customer decides which brands they want to interact with. Events are also typically targeted to attract a particular audience, consistent with Dr. Fader's emphasis on identifying the "most valuable customers." Nearly a third of marketers believe that trade shows, conferences, conventions, and other events are essential to doing business with their target markets. Events are effective because they are tailored to an audience that is likely already interested in your brand, product, or the experience you're providing.
In a perfect example of customer-centric event marketing, Pro Motion worked with Corona beer to attract a particular audience, Hispanic fans of the World Cup of Soccer. Soccer fans were provided the opportunity to play "sand" foosball tournaments. Brand ambassadors were fluent in both Spanish and English, and winners of the foosball tournaments were entered to win a trip for two to Mexico to meet and watch the Mexican national soccer team play at Azteca Stadium in Mexico City. This experience was clearly tailored for a particular audience, with activities and incentives that appealed to Corona's target consumer. 
Emotional connections

create brand loyalty
The best customers for any brand are those who are loyal to the brand long term. The most effective way to nurture that kind of relationship with customers is to allow them to form an emotional connection with the brand. Luckily, experiential marketing excels at creating positive, emotional ties with consumers. 
Simply put, experiential marketing brings people joy and happiness — and who doesn't want to feel happy? Creative events and experiential campaigns give customers feel-good emotions through immersive experiences. Why is experiential marketing so effective at facilitating emotional connections? People naturally crave new, exciting experiences. We all crave "highs" that allow us to take a break from the routine and live in the moment. The best events and experiential campaigns are exciting and unexpected. These emotional connections lead to well-formed memories. As we've written about before, memories influence what brand comes to mind when people consider a particular product or product category. The best way to tap into the power of memory is to give people memorable first-hand experiences, and there's simply no better way to do that than with experiential marketing. Read more about how memory and emotional connections make powerful marketing tools in this blog post. 
The power of

word of mouth 
Your biggest marketing asset is your existing customer base. According to Nielsen, 92% of consumers trust recommendations from other people over promotional content directly from brands. This applies even to people they don't know! Brand ambassadors, influencers, and real-life users of products have a real impact on getting others to try a product. Millennials rely on word of mouth even more than other adults — according to the 2018 Chat Matters report, Millennials are 50% more likely than other groups to recommend a product or service through word of mouth, and 77% of Millennials have recommended a product or service to someone else in the past month. 
Experiential marketing is ripe with opportunities for word of mouth marketing. Memorable events are likely to create the kind of organic
"buzz" that spreads through communities and networks. The right immersive experience will generate enough buzz that people are dying to check it out. In our previous post, we focused on how events fuel brant content that can be shared in other marketing materials. Experiential marketing inspires consumers to create and share brand content, too! According to a 2016 Event Track survey, 98% of consumers create digital or social content at events and experiences and 100% of these consumers share the content. I can't think of any company that would say no to free advertising highlighting something exciting about their brand! To successfully create buzz, put together an event that is easily shareable on social media. For example, Pro Motion developed the Pace Tailgating Ranch to promote Pace salsa. Attendees had the opportunity to win a Pace foam cowboy hat, and shares of the hat on social media made an appearance on the Ellen show! 
Check in next week for the final 3 reasons experiential marketing works.
Pro Motion is ready to help you harness the power of experiential marketing. If you're interested in being the next success story, call us at 636.449.3162
Learn More About Steve Randazzo's book,  Brand Experiences: Building Connections in a Digitally Cluttered World. Click here to download free chapters!